Friends of Orissa is involved in an extensive economic development program. We work with over 2000 Self Help Groups (SHG) which directly effect between 100,000 - 120,000 people in Orissa. The SHGs actively work to bring economic stability to families of the poorest state in India. This process begins by encouraging 10 - 15 interested women from a village (who are not directly related) to agree to form a self help group. Typically each woman represents a family of five.

Friends of Orissa
trainers then teach them how to form a Self Help Group. This starts with each women agreeing to save a few rupees a month and pool them together into a savings account which they use to make small loans to each other to avoid going to the loan sharks that charge exorbitant interest rates.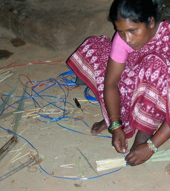 Many of the micro business opportunities are simple and can be started with little capital, such as broom making, basket weaving, spices, cooking school lunches, or gathering a certain kind of leaf used to make plates. Other businesses need more capital and micro financing. Trainers work with them to identify what kind of business enterprise they can successfully bring into their local marketplace.

The women meet together weekly to plan and learn how to get their new business started and successful. They are further encouraged as they see their savings account grow to meet their business ideas.